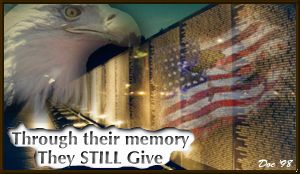 In Memory
Pfc. Alan Craig Mulford, USMC
b. March 25, 1946
KIA March 5, 1966
Quang Ngai, South Vietnam
His remains were recovered.

He was somebody's son.
He was somebody's friend.
He will live on in the hearts and minds
of those who knew and loved him.
Rest in peace, soldier.
You are not forgotten.

---
Wall graphic courtesy of

© 2004-2005 All Rights Reserved.